Daco FLX350 Flexographic Label Press
The Daco FLX350 flexographic label press is a compact printing press available with either 1 or 2 colours utilising IR or optional GEW UV drying. Take simple work from multi colour presses and produce simple labels cost-effectively.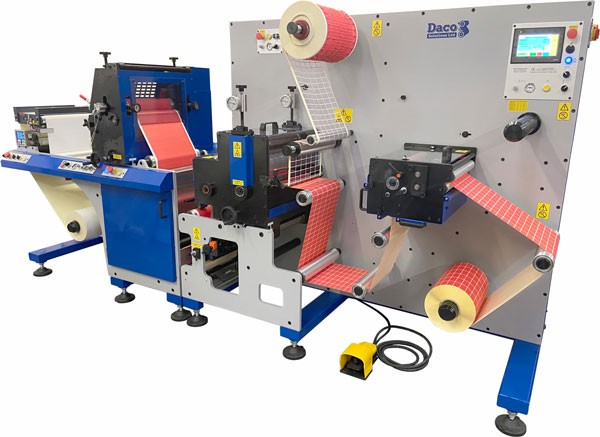 Benefits
The Daco FLX350 flexographic label press is a compact, versatile converting line for labels.   The machine is available for flexographic printing applications or the converting of media from pre-printed digital, inkjet, flexo and gravure printing presses.
Easily apply spot or flood coat UV varnishes, the 'FLX350' can also be configured with an optional laminating station to give ultimate flexibility for digital finishing applications.
The flexographic print/coating station utilises the latest in servo drive technology and with software written by Daco allows for quick and easy setup.  With the environment and paper costs in mind, the print to die register is accomplished with the use of minimal substrate.
Even with the machines compact size, the FLX350 has a 700mm (27.5") unwind and rewind with automatic tension control ensuring that roll changes are kept to a minimum.  A smaller optional rewind is also available for digital converting and plain label / slitter rewinding functions.
The flexibility of the 'FLX350' platform enables a converting line to be configured for most applications.
---
Daco FLX350 Flexographic Label Press
Standard Features
Web width: 350mm (13.75")
Unwind

Maximum unwind diameter: 700mm (27.5″)
76mm (3″) diameter air shaft
Merobel electromagnetic particle brake
Programmable end of roll function
The user can program the roll end diameter – slowdown and / or stop.  The system does not use any roll followers or external sensors that can be damaged at roll changes.  The diameter is programmed from the touch screen operator interface.
Web up – the operator from the touch screen operator interface, release the unwind brake to allow for simple webbing up of the machine.

BST electronic web guide

Ultrasonic sensor – enables guiding of opaque and clear materials
Adjustable web guide sensor
+/- 25mm (1″) correction
Tape dispenser for the splice table

1 Flexographic print / coating station

Print to register servo drive system with a +/- 0.25mm (0.010″) accuracy at a constant speed
Print repeat lengths: – 203-457mm (8″-18″)
Maximum print width: 340mm (13.38″)
Constant turning anilox roller
Auto throw off
Doctor blade
4.5Kw IR dryer

1 Rotary die station with matrix rewind

Die-cut to register servo drive system with a +/- 0.25mm (0.010″) accuracy at a constant speed.
Cutter repeat lengths: 203-457mm (8″-18″)
Fixed RotoMetrics through-hardened anvil – 105T – 13.125″ repeat.
20mm (0.78″) thick die plates
Gearing 1/8cp 20 degree pressure angle
Lateral die adjustment
76mm mechanical mandrel: For matrix rewind
Maximum matrix rewind diameter: 609mm (24")

Product Rewind

Maximum product rewind diameter: 700mm (27.5")
Servo driven rewind
Automatic taper tension control
76mm (3″) air mandrel

Maximum web Speed: 100 metres / minute (328 feet/minute) dependent on material.
Count Facility:-

Labels
Length – meters / feet

Rotary scissor slitting unit

3 slitting knives
Minimum slit width 13mm (0.51″)
Lateral knife adjustment +/- 8mm (0.31″)
Removable interlocked cutter guard

A fully adjustable silicone nip roller
Colour touch screen HMI operator interface

Highlights machine status & error messages
Counting options
Tension settings
Allows for easy & quick job setups

Modem connection for machine diagnostics & software upgrades
Durable powder coated cabinet and main plate
Optional Equipment
Unwind

Modular U350 762mm (30″) unwind module
Modular U350L 1m (40") unwind module with roll lifter, 76mm (3″) diameter air shaft

Drying Options

Replace IR dryer with GEW E2C UV dryer
Optional Ozone Filter – Fits to the outlet fan and eliminates the need to duct exhaust air out of the building
Spare UV lamp
IR cassette to slot into GEW E2C UV case

Additional product rewind for plain label production

Maximum product rewind diameter: 360mm (14")
Servo driven
Taper tension control
Labels in / labels out rewinding
Air mandrels 25mm – 76mm  (1″ – 3″)

RotoMetrics Hydra Jacks – die pressure gauges, quick release (per die station) – modified guarding & die blocks
DBS-350 back scorer – 2 knife holders (for edge trimming & winding with waste)
Foot pedal to jog machine (assists in webbing up the machine)
Addition servo-driven flexographic print/coating station
Addition servo-driven rotary die station (no waste rewind or stripping)
Air assisted turn bar
Razor slitting – with lateral knife adjustment +/- 8mm (0.31″) – Minimum slit width 10mm (0.39″)
RotoMetrics tinting mandrel with air assist stand
RotoMetrics magnetic die cylinders
Video / Gallery
Daco FLX350 Flexographic Label Press
---
Product Documents