Label Sheeting Machinery
Daco Solutions manufacture servo driven full rotary label sheeting machinery utilising a single cutting tool with sheet length from 50mm – 1400mm ( 2" – 55" ).
The range includes the LS350 sheeter that sheets pre-printed or plain labels.  The machine is considerably faster than guillotine based systems.  The machine is able to sheet to register and is ideal for finishing labels from digital labels presses.
The Daco D350s is a production line for producing laser / inkjet labels.  The D350S is a modular and can include a large 1m (40″) unwind, flexo print station(s) and inkjet printing modules.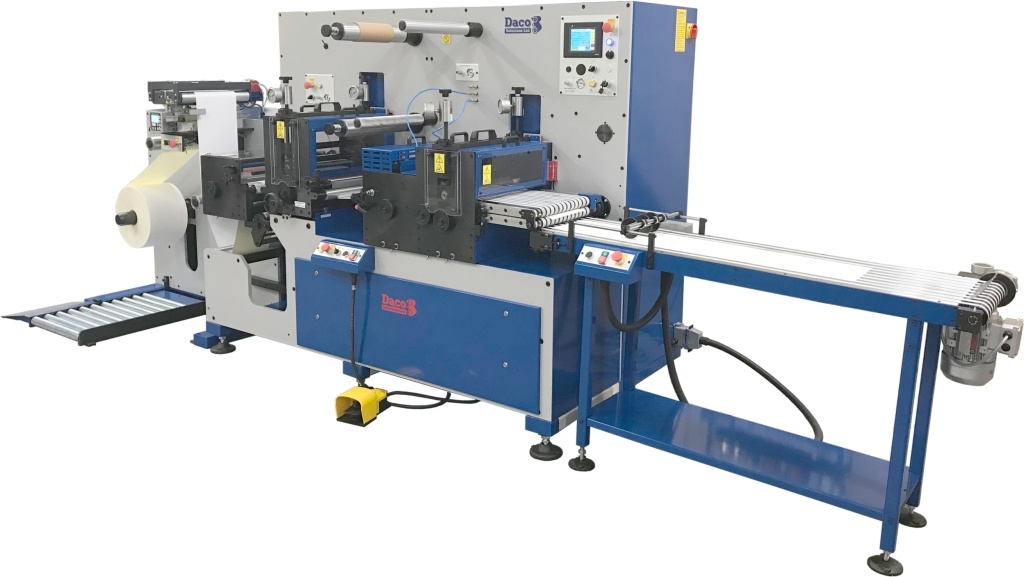 The Daco D350S sheet label production line for the manufacture of inkjet and laser labels. The D350S can produce A5, A4, A3 & SRA3 sheet labels; the die station and sheeting unit are both fully servo driven with the sheeting station only using one cylinder to produce all sheet sizes.
The Daco LS350 for the sheeting of labels and tags from flexographic and digital label presses. The fully servo-driven sheeter utilises a rotary sheeting tool to produce sheeted labels quickly and it is significantly faster than guillotine based systems.