Daco D350S – Sheet Label Production Line – Laser / Inkjet Labels
The Daco D350S sheet label production line for the manufacture of inkjet and laser labels. The D350S can produce A5, A4, A3 & SRA3 sheet labels; the die station and sheeting unit are both fully servo driven with the sheeting station only using one cylinder to produce all sheet sizes.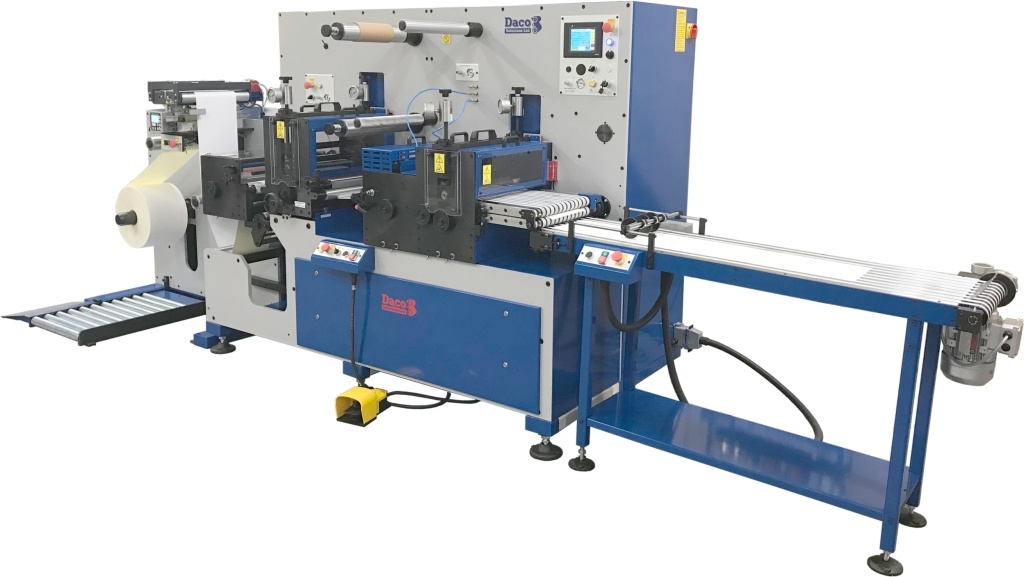 Benefits
The Daco D350S can die-cut and sheet to register for clients wishing to convert material from digital or flexographic label presses. The machine is also capable of producing labels on rolls allowing plain label production for thermal printers and is aimed at the short to medium production runs. The D350S is quick to set up through the use of innovative servo software and intuitive touch screen, which allows the operator to be in production with only eight sheets of setup.
The large 700mm (27.5″) unwind has an electronic brake and taper tension control. An optional upgrade to a U350L 1m (40") unwind module will keep roll changes to a minimum.
---
Daco D350S Laser Sheet Label Production
Standard Features
Web width: 350mm (13.75″)
U350 Unwind Module
Maximum unwind diameter: 700mm (27.5″)
76mm (3″) diameter air shaft
Electromagnetic particle brake
Taper tension control
Programmable end of roll function

The user can program the roll end diameter – slowdown and/or stop. The system does not use any roll followers or external sensors that can be damaged at roll changes. The diameter is programmed from the touch screen operator interface

Web up – the operator from the touch screen operator interface, release the unwind brake to allow for simple webbing up of the machine.
BST electronic web guide
Ultrasonic sensor – enables guiding of opaque and clear materials
Adjustable web guide sensor
+/- 25mm (1″) correction
Integral splice table with pneumatic web clamps
DBS-350 back scorer
Two back scoring knives enable crack backs and edge trim removal
De-curler positioned before 1st die station to assist in removing curl from the material. De-curling bar has both sharp, and radiuses edge to give options for coated materials
Die Station 1
Servo Driven Rotary die station with Matrix Rewind
Cutter repeat lengths: 8″-18″
Fixed RotoMetrics through-hardened anvil.
Precision ground 20mm (0.78″) thick die plates
Gearing 1/8″ CP 20 Degree Pressure Angle on the front side of anvil and 32DP on the rear side of the anvil
Lateral Adjustment of Die station (the complete die station rather than just the die adjusts by +/-15mm)
Die springs fitted to the die station to lift the magnetic cylinder to allow easy changing of the magnetic plates
SETUP MODE – this enables the operator to jog the machine at a slow speed with the guards removed.
Diecut to Register Control system with an accuracy of +/-0.25mm (0.010″) at a constant speed. A registration mark must be printed on each sheet and must be positioned away from any other print which could interfere with the registration sensor.
Crush Slitting Station
With three quick-release Crush Knives for edge trimming or slitting when producing labels on a roll. Utilises Tidland air operated crush knives which run against a Rotometrics through-hardened anvil. Crush knives can be easily added or removed on a quick-release system, and the crush pressure is controlled using a pressure regulator and gauge.
Sheeting Station
Servo driven sheeting (Uses one fixed die cylinder with either 1 or 2 sheeting blades)
Sheet lengths 100mm – 1400mm
Fixed RotoMetrics through-hardened anvil.
Precision ground 20mm (0.78″) thick die plates
Gearing 1/8″ CP 20 Degree Pressure Angle on the front side of anvil and 32DP on the rear side of the anvil
Diecut to Register Control system with an accuracy of +/-0.25mm (0.010″) at a constant speed. A registration mark must be printed on each sheet and must be positioned away from any other print which could interfere with the registration sensor.
Indexing conveyor with batch count facility. Both accelerating conveyor and indexing conveyor to utilise 20mm wide flat belts.
Adjustable Doctor Blade on the Anvil Sheeting Station
Maximum web speed: 130 metres/minute (426 feet/minute) dependent upon material and sheet length
Count Facility:
Sheets
Labels
Length – meters
Fully adjustable servo-driven silicone nip roller
Colour touch screen HMI operator interface
Highlights machine status & error messages
Counting options
Tension settings
Job storage for easy & quick job setups
Modem connection for machine diagnostics & software upgrades
Optional Equipment
Modular U350L 1m (40") unwind module with roll lifter, 76mm (3") diameter air shaft
Removable anvil with support roller
Matrix stripping roller (for use with difficult to strip matrix)
Matrix stripping bar (for use with difficult to strip matrix)
Additional product rewind for plain label production (includes mandrel of customer choice)

     Maximum product rewind diameter: 360mm (14")
     Servo driven
     Taper tension control
     Labels in / labels out rewinding
     Range of air mandrels 25mm (1") to 76mm (3")

Daco RL200 roll/die lifter – makes loading of the rotary die safe and simple
RotoMetrics die pressure gauges with Quick Release system to minimise downtime
RotoMetrics magnetic die cylinders
Foot pedal to jog machine (assists in webbing up the machine)
Modular flexographic print station – water-based or UV inks
Modular DP350 inkjet unit, water-based or UV, mono or CMYK
Video / Gallery
Daco D350S Laser Sheet Label Production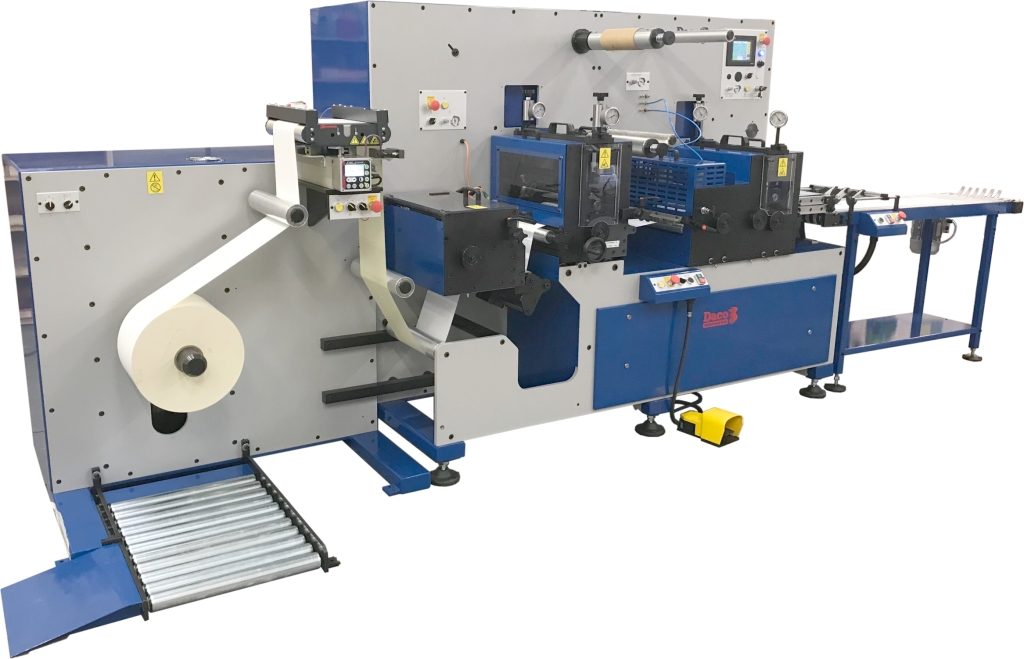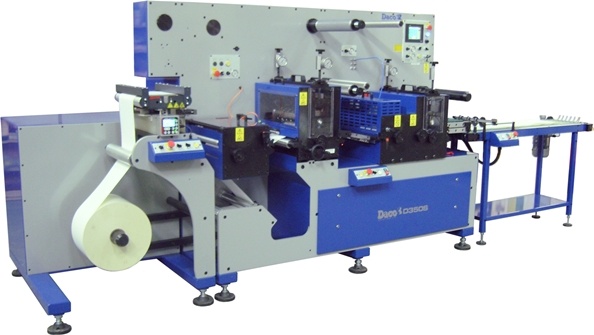 ---
Product Documents