Daco PLD250 / PLD350 / PLD430 Rotary Die Cutter With A Semi-Automatic Turret Rewinder
PLD Semi automatic turret rewinder available with a one or two rotary die cutting stations, web widths of 250mm (10″), 350mm (13.75″) or 430mm (17") and offers the user the benefits of turret rewinding for short run work.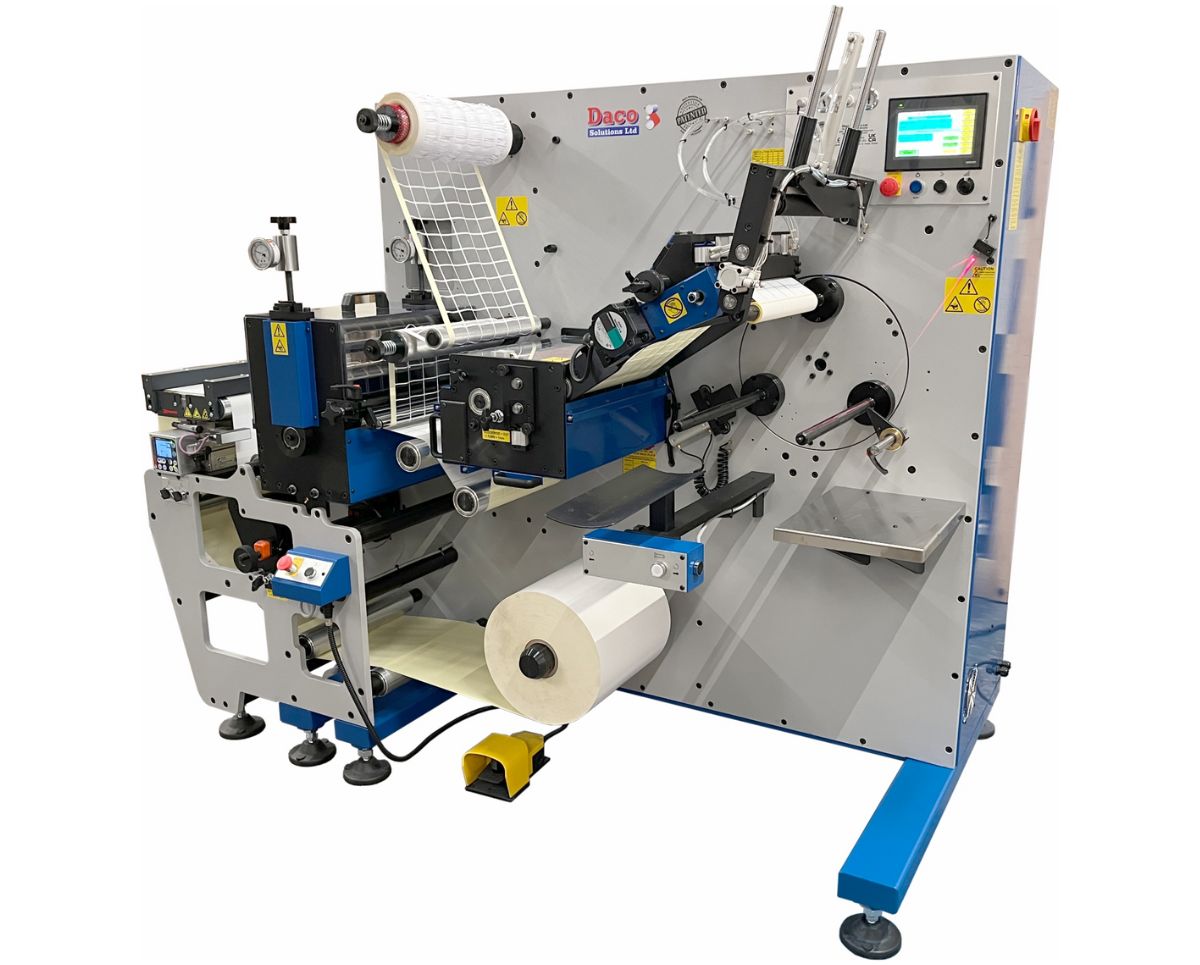 Benefits
The Daco PLD rotary die cutter with a semi-automatic turret rewinder offers all the benefits of turret rewinding but with rapid make-ready times, unlike conventional turret rewinding. This allows shorter runs to be produced both quickly and more efficiently.
The PLD250 / PLD350 / PLD430 is a very efficient rotary die cutter with a 3 spindle semi-automatic turret rewinder for small roll production. Unlike traditional die cutters, where the machine is stopped for a considerable time while operators cut and re-apply the web to the cores, the semi-automatic turret is only stopped for a few seconds while the turret indexes. New cores are applied to the rewind shaft while the machine is in production; the turret automatically cuts the web and applies the web to the new cores.
Many clients are finding that the PLD250 / PLD350 / PLD430 machine is the ideal solution to produce thermal labels for desktop and industrial thermal transfer printers and the production of price gun labels.  With the rotary die removed the machine can be used as a very productive slitter rewinder for small and large roll production.
If further automation is required, the Daco TD fully automatic plain label production line which has a servo-driven rotary die station(s), 4 spindle servo turret rewinder with label closure which increases productivity further.
Web widths 250mm (10″), 350mm (13.75″) and 430mm (17″)
---
Daco PLD Rotary Die Cutter With Semi-automatic Turret Rewinder
Standard Features
Unwind

Maximum unwind diameter: 700mm (27.5″)
76mm (3″) air mandrel
Servo driven
Automatic taper tension control
End of roll function – The user can program the roll end diameter – slowdown and/or stop – The system does not use any roll followers or external sensors that can be damaged at roll changes. The diameter is programmed from the touch screen operator interface.

Web guide

BST electronic web guide.
Ultrasonic sensor – enables guiding of opaque and clear materials.
Integral diagonal splice table with pneumatic web clamps.
Adjustable web guide sensor.
+/- 25mm (1″) correction.
A tape dispenser for the splice table.

Die Station

Die repeat 153 – 406mm (6″-16″) – 250 model / 203 – 457mm (8″ – 18″) – 350 model
Through hardened anvil – 105T – 13.125″ repeat.
16mm (0.62″) thick precision ground die plates.
Gearing – 1/8 cp, 20-degree pressure angle.
A driven matrix stripping roller with adjustable tension control ensures reliable matrix stripping, enabling high speed running even if the matrix rewind becomes unstable.
Matrix / Waste Rewind – 609mm (24″)diameter.
76mm (3″) mechanical mandrel for waste rewind.

Draw Head

Silicone nip roller against a driven draw roller.
The silicone nip roller does not allow labels to attach themselves to it, reducing downtime.
Fully adjustable to allow for different label stocks.
The draw roller is driven by a 1.5Kw (2 hp) motor.

Slitting

3 quick-set rotary scissor slitting knives (shear knife).
Minimum slit width: 13mm (0.51″)
Lateral knife adjustment: +/- 8mm (0.31″)
Removable interlocked cutter guard for easy access to the slitting knives and anvils.

Turret Rewind – 3 Position

Max rewind diameter: 340mm (13.38″)
3 x 76mm (3″) diameter quick-change air shafts (or 3 of customer choice)
Merobel electromagnetic particle clutch.
Automatic taper tension control –

automatic tension control

.
Adjustable core positioning device – ensures accurate loading of cores onto the mandrel.
Automatic roll ejection system – enables easy removal of the finished rolls by the operator

Count Facility

Labels
Linear – metres
Programmable auto slow down and stop when the count is reached.

Colour Touch Screen Operator Interface

Highlights machine status, error messages and warnings
Counting options
Tension settings
Job storage allows for easy & quick job setups – 100 jobs

Speed – 175 metres/minute – 575 feet/minute – dependent on material
Conforms to CE regulations and all circuits use dual channel safety switches, which are continuously monitored using a certified safety relay.
Optional Equipment
Modular UL 1m (40″) unwind
Additional rotary die stations – for perforating (does not include matrix rewind)
Lateral knife separation (rotary slitting)
Removable anvil – enables back cutting/perforating
Air mandrels – 19 to 76mm (3/4 to 3″)

Daco DBS back scorer

– enables edge trim to be wound with the waste matrix

RotoMetrics Hydra Jack

die pressure gauges.
RotoMetrics magnetic die cylinders
Additional rotary slitting knives
Die adaptors to utilise existing tooling – Edale, KDO (K2) & Mark Andy (others available upon request)
Video / Gallery
Daco PLD Rotary Die Cutter With Semi-automatic Turret Rewinder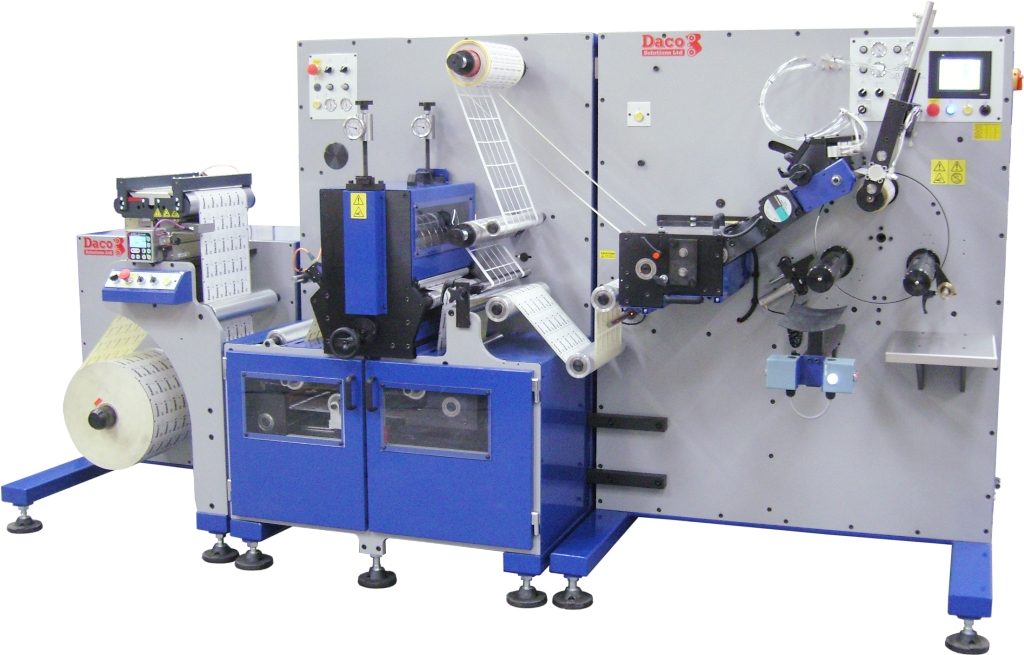 ---
Product Documents