Edge Trim Removal For Daco DTD250 Table Top Rotary Die Cutter
The Daco DTD250 rotary die cutter from its release in 2003 has seen a number of upgrades and improvements based on customer recommendations and on-going R & D at Daco Solutions. The latest addition is a splice table with pneumatic web clamps that can be fitted to machines that utilise the RotoMetrcs RD scorer for edge trim removal.
The splice table is available as a retrofit to most machine so that splices can be made prior to the back scoring. Working closely with Label Metrics, the system was fitted to their machine for testing purposes and Matt Bly, Production Director comments 'After speaking with Daco about the problem of the position of the RotoMetrics RD scorer on the DTD250 machine at Labelexpo. They quickly came up with a solution that now enables quick and easy splices which do not snap the edge trim enabling us increase our production further, it's nice that some manufacturers do listen to their clients.'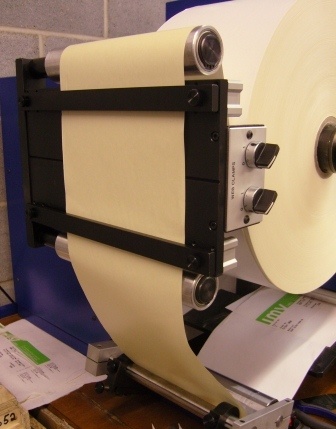 We have now developed our own DBS back scoring system for the removal of the edge trim. This development now enables us to place the back scoring after the splice table enabling splices that could potentially snap the waste matrix to be avoided.