Label Metrics Install A Daco DTD250 Table Top Rotary Die Cutter
Following a visit to the Daco factory to view a Daco DTD250 in operation, an order was immediately placed for a machine that was destined for Labelexpo Europe.
Shaun Robert's, MD of Label Metrics 'Both Matt and myself were immediately impressed with the performance of the machine, we honestly could not believe that a table top machine could perform at such speeds and the quick easy setup of the machine clinched it for Daco' Matt Bly, Production Director 'I was particularly impressed with the low wastage during setup, about a 1.5 metres of material for a full die change and re-setting the slitting knives. Of particular importance was the tension control on the machine as I had previously worked on a machine that uses a rewind with torque control and found them lacking in performance on smaller mandrel sizes, the Daco machines pneumatic clutch performed amazing well.' The DTD250 was configured with a RotoMetrics RD scorer for back scoring and rewinding the edge trim with the waste matrix and RotoMetrics Hydra Jacksdie pressure guages to enable Label Metrics to quickly and easily change from one job to another. Matt explained that as a new start-up they would need to be efficient as possible due to the number of short runs and many job changes each day.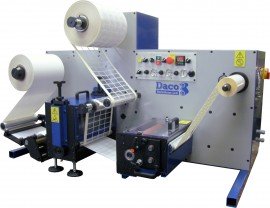 Mark Laurence, Daco Sales Manager – 'From the initial enquiry to installation was only a couple of days, we also supplied a tooling package from RotoMetrics and we loaned to them mandrels and tooling from stock until they become established. It's nice to sell something local as most of our equipment goes into Europe and the US.'
Visit the >Label Metrics website.
View:- Label Metrics Client Testimonial
Products:- Labels, Tamper Proof Labels, Direct Thermal Labels, Thermal Transfer Labels, Tamper Evident Labels, Weigh Scale Labels, Price Gun Labels