Used Label Converting and Finishing Equipment
Clients often ask us if we can offer used Label Finishing and Printing Presses. Daco sometimes has equipment that has been part-exchanged against equipment from our range of Inspection / Slitter Rewinders, Rotary Die Cutters and Turret Rewinding Equipment. If you have equipment either now or in the future, please complete our online Selling Equipment form, and we will pass the equipment details to any potential clients. We have a small range of finishing equipment that has been part exchanged or we have been asked to market by clients using Daco equipment – please view the range.
We currently have a:-
Edale Alpha – 4 Colour UV Press
3 Rotary die stations – 2 with removable anvils.
Turnbar
GEW UV dryers
E & L web guide
Age: 2013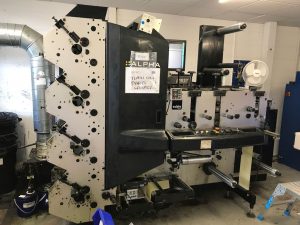 Availability: Immediately
For further information, please contact:-
AM Labels Ltd
Mr Tony Mariani – tony@amlabels.co.uk