Upgrade to specification of the Daco DTD250 for Labelexpo 2009
The Daco DTD250 tabletop rotary die cutter was introduced to the product range in September 2002.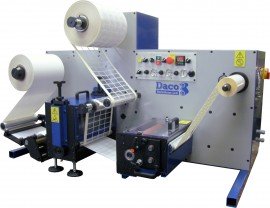 We have now updated the specification to include an air mandrel for the rewind and labels in / labels out rewinding as standard. The mechanical mandrels were limited to 38mm (1.5″), we found that clients wanted to be able to have the flexibility of being able to run smaller mandrels. Although an upgrade was available to upgrade the machine to air mandrel, we felt that it was time to look at the machine specification again since its launch in 2002.
Daco Solutions now have a total solution to plain label production. For the small runs, we have the tabletop Daco DTD250 and the Daco 'D' 250 / 350 for the medium to long runs. For the longer run and high volume, we have the Daco DSI 350 /410, and with non-stop full automation we have the Daco TD – a turret rewinder with a 1m (40″) unwind, either one or two rotary die stations, core and tail glueing with automatic roll ejection.