Daco Solutions awarded patent for roll winding technology
Leading label finishing equipment manufacturer Daco Solutions has been granted a UK patent for its fully automatic turret rewinder technology, the SVT series. The British company has used its extensive engineering expertise and long experience to develop new innovative features to eliminate issues in the finishing process that can severely affect profitability. Following its successful introduction in 2017, the invention has now been recognised by the UK Intellectual Property Office, which granted Daco Solutions a patent for its unique glueing method that sees the web attached to the roll cores with double-sided tape.
"The Daco SVT turret really shines through how easy and safe it is to use, and how quick it is to set up. Most importantly, it solves many problems with globules of hotmelt adhesive flying off and transferring to the top side of the web, and if labels are being used in thermal transfer printers damaging the printhead," said Mark Laurence, Daco Solutions sales manager. "This messy and quite costly operation can also lead to operator burns and other potential health hazards from fumes etc."
Daco Solutions offers the newly patented technology to its customers on its range of modular offline finishing equipment, including the popular Daco TD plain-label converting machine and the SVT350 label finisher, which can run in-line with a UV inkjet printing module from Inkjet Solutions.
The innovative new method of attaching the lead-in edge of the web to the core does away with liquid adhesives, which carry the risk of the hotmelt glue inadvertently attaching itself to the web elsewhere. Instead, the SVT turret module uses a double-sided adhesive strip of tape to secure the edge onto each roll. Once the roll is finished, the tail end of the web is held in place by a label with the relevant job information that has been printed by an integrated thermal transfer printer and then automatically applied.
Featuring a 700mm (27.5") or optional Daco U350L 1-metre (40") unwind module, the servo-driven SVT turret has four spindles and includes a high level of automation operated through a touchscreen HMI interface but is available at a very competitive price point. It can be combined with a flexo print station, die-cutting and slitting to produce finished label rolls in a single pass. A host of other options for achieving even higher efficiencies are also available.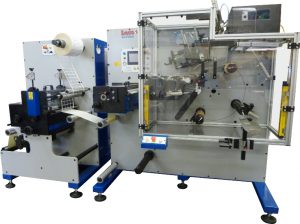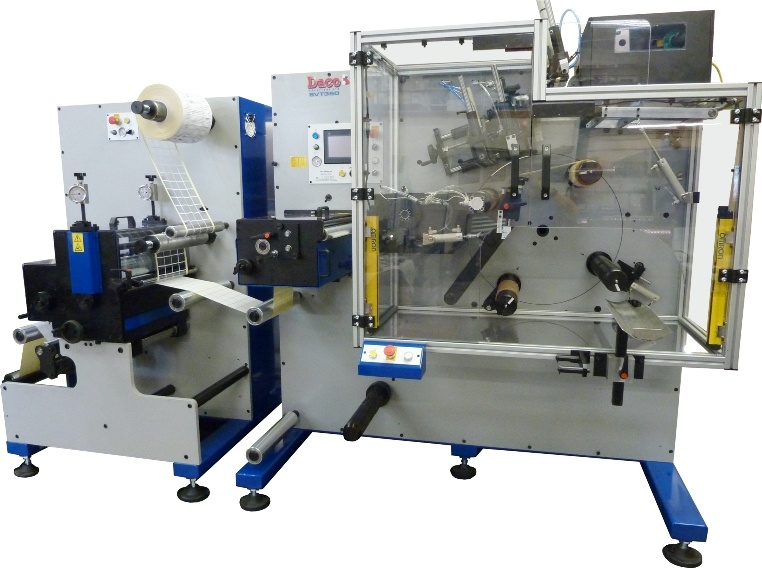 With this glue-less automatic system, the only intervention the operator needs to make is to load the new cores onto the spindle and then apply the strip of tape using a handheld applicator. The exact positioning of the tape is automatically indicated by a laser to ensure accurate application. This fast and efficient action is performed while the machine is running, thereby enabling continued production at speed.
Managing director and owner of Daco Solutions, David Beynon, who invented the new glueing technology, commented, "We went through the lengthy patent application process because we believe that our British designed and built technology is unique in the market, and we are happy to report that the UK Intellectual Property Office agreed. We are very proud to have been granted this patent, as we continue to develop the best possible solutions that won't break the bank but will help our customers increase profitability."