Flexi Labels Install a 2nd Daco D350S – Laser Label Sheet Production Line
Flexi Labels, Peterborough – UK, install a 2nd Daco D350S sheeting line for the production of A4 & A3 laser/inkjet labels.  Flexi Labels produce both short runs, sometimes as little as ten sheets and long-run sheet labels.  Initially, they purchased a Daco D350S sheet production line which was installed in January 2016.  With increased production requirements, Flexi Labels ordered a 2nd machine with an improved specification to add further products to their growing portfolio of products.
The D350S is a fully servo-driven machine, and the sheeting station only uses one size of sheeting tool to produce all sheet lengths from 50mm to 1400mm.  The machine is truly modular and with a 1m (40") unwind, flexo & inkjet print modules, flexographic print station & UV inkjet systems can easily be added at a later date.  The D350S allows the die-cutting of material from digital label presses and can cut to register in both roll and sheet formats.  With this in mind, Flexi Labels added a flexographic print station allowing for colour washing/tinting of labels and the ability to print standard packaging labels on A4, A3, A5 and SRA3 sheets.  The machine is also capable of running print roll to roll and is also able to produce plain labels on rolls for the growing thermal transfer market.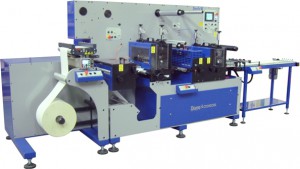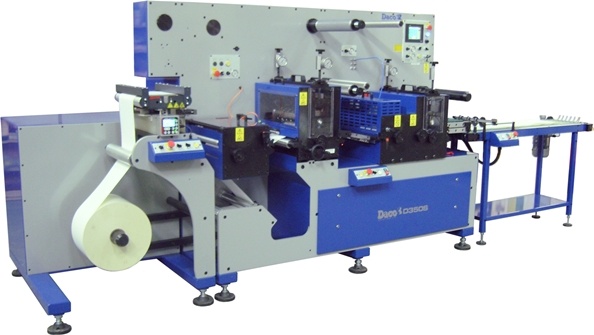 Flexi Labels Operations Director, Assad Gilani says "It has been a pleasure working with Daco Solutions for our label machinery requirements. What you get from Daco, is extraordinary after-sale support, a massive YES attitude to anything you need on the machine and far more competitive prices compared to prices from similar competitors. From the moment you've ordered, you are kept informed on the design and development progress using Solid Edge 3d CAD designs, 3D models, precisely produced parts, assembly and then final sign-off before delivery. We have no hesitation in recommending Daco Solutions to someone looking to start a label business or who wishes to buy another piece of equipment. We are in talks again for another machine in 2018, which will be our 3rd machine from Daco Solutions and 6th label press in our current plant list. As a business, we are continuously investing in our staff training and automated machinery to deal with all labelling requirements from our customers. Having recently secured a long-term lease we are very much looking forward to moving into our 12,000sqft purpose-built production facility from the beginning of 2018".
Daco Solution's Sales Manager, Mark Laurence, it's great to receive another order so shortly after the first order.  Flexi Labels spoke to us at great length regarding the products they wish to produce now and in the future.  With this in mind, we specified a fully modular machine that will give them the ability to add further enhancements in the future.