Daco Solutions 250th Machine Sold To Label Metrics
UK label converting equipment manufacturer Daco Solutions, Beverley, is celebrating the design of its 250th machine with a sale to leading label converter, Label Metrics. The deal for the new Daco D350 was clinched at Labelexpo Europe 2013 after Label Metrics saw the specification in advance.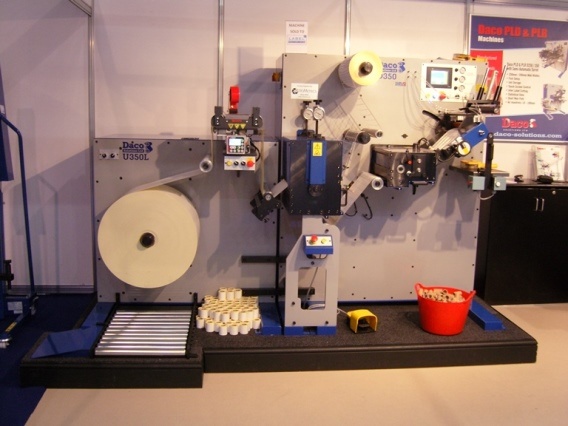 The Daco D350 is a single spindle machine fitted with a Daco U350L 1m (40") unwind module for immediate higher production output for this class of die cutter. It features an auto cut and apply web advance system with inter-label cutting for applying the web to the cores at the start of the rewinding process. The die station is strong and is supported down to ground level.
The D350 delivers the benefit of a turret rewinder without the outlay. "There is no machine out there with a single rewind, auto cut / apply combination and with the job storage system where all relevant parameters for the job can be stored and recalled next time the job runs reducing make ready considerably," says Sales Manager, Mark Laurence. Matt Bly, director of Label Metrics, did not hesitate when he became aware of the new development. "There is nothing on the market exactly like this machine," he says. "We are a fast turnaround label specialist so capacity is the key when it comes to plain label die cutting. The reduced downtime, minimal make ready and high capacity U350L 1m (40") unwind module enables us to increase sales."