Daco PLD Range See Upgrades For Labelexpo Americas 2016
The Daco PLD range of rotary die cutters with a semi-automatic turret rewinder for the production of blank labels sees various upgrades for Labelexpo Americas 2016.
The Daco PLD350 is a rotary die cutter with a 3 spindle semi-automatic turret rewinder, unlike the many 2 spindle variants being offered the PLD automatically cuts and applies the web to the core, whilst the machine is in production the operator loads the cores onto the mandrel greatly reducing the time that the machine would be normally stopped on traditional rotary die cutters.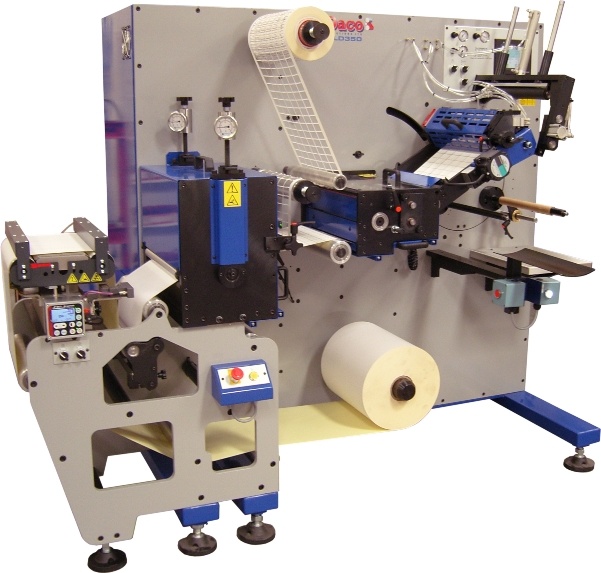 The upgrades to the PLD incorporates a new infeed incorporating the BST web guide with web splicing at a more ergonomic position for the operator, a bigger heavy die station which is fully supported to ground level is built into the infeed unit.  With the improvement in web speed the fully adjustable capstan roller has been positioned differently and when coupled with the new design of stripping roller greatly improves throughput of the machine.
The software has also had a major update and the cycle time has been significantly reduced when producing smaller rolls, with the operator in mind we have also made big inroads into job setup time with the job storage facility.
The Daco PLD350M servo driven modular range allows for a very varied configuration, by utilising the very latest in servo drive technology you are able to add various modules to the machine as your production requirements change in the future.  This includes, large capacity unwinds, flexo print stations and the Daco DP350 inkjet module.
Take a few moments and call by us on booth #5435 at Labelexpo Americas 2016 to see for yourself how blank label production can be improved for both your bottom line and your operators.