Daco DTD250 Upgrade for Labelexpo Europe 2011
Daco Solutions will be exhibiting the upgraded Daco DTD250 table top rotary die cutter for plain label production at Labelexpo Europe. The Daco DTD250 from its release in 2003 has seen a number of upgrades and improvements based on customer recommendations and on-going R & D at Daco Solutions.
The machine as standard will now be supplied with an air mandrel for the unwind and web clamps for the splicing table to make roll changes quicker and easier. We have now developed our own DBS back scoring system for the removal of the edge trim. This development now enables us to place the back scoring after the splice table enabling splices that could potentially snap the waste matrix to be avoided. The draw / nip roller assembly as also been upgraded which enables operators to reduce machine setup times further and gives improved performance. The Daco DTD utilises a pneumatic unwind brake for unwind tension which is infinitely variable and gives a much better performance than a friction brake pad system. The sturdy construction of the die station uses 16mm (0.62") steel precision ground die plates and a through hardened tool steel anvil from RotoMetrics. The rewind also uses a pneumatic rewind clutch which is infinitely variable enabling the use of rewind mandrels from 25 to 76mm (1″ to 3"). This system allows soft rolls to be produced at full production speeds, even on small diameter mandrels, in contrast to some of our competitors which use torque motors which can struggle to produce soft rolls on small mandrels at full production speeds. Come by and see the Daco DTD250 machine running jobs using a 25mm (1") mandrel and see what we believe is the best performing and cost effective table top rotary die cutter available on Stand K135 Hall 7.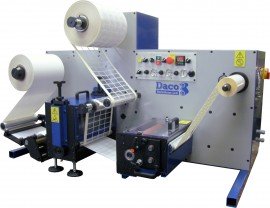 Daco DTD250 Table Top Rotary Die Cutter – PDF Brochure Download