Maquinaria usada
Daco PLR350 Semi-Automatic Turret Rewinder
Web width 350mm
Unwind
Maximum unwind diameter: 700mm (27.5″)
76mm (3″) air mandrel
Merobel electromagnetic particle brake
Automatic taper tension control
End of roll function – The user is able to program the roll end diameter – slowdown and/or stop – The system does not use any roll followers or external sensors that can be damaged at roll changes. The diameter is programmed from the touch screen operator interface.
Web guide

BST electronic web guide.
Ultrasonic sensor – enables guiding of opaque and clear materials.
Integral splice table with pneumatic web clamps.
Adjustable web guide sensor.
+/- 25mm (1″) correction.

Draw Head

Silicone nip roller against a driven draw roller.
The silicone nip roller does not allow labels to attach themselves to it reducing down time.
Fully adjustable to allow for different label stocks.
The draw roller is driven by a 1.5Kw (2 hp) motor.

Slitting

3 quick set rotary scissor slitting knives (shear knife).
Minimum slit width: 13mm (0.51″)
Lateral knife adjustment: +/- 8mm (0.31″)
Removable interlocked cutter guard for easy access to the slitting knives and anvils.

Turret Rewind – 3 Position

Max rewind diameter: 250mm (10″)
Merobel electromagnetic particle clutch.
Automatic taper tension control.
Adjustable core positioning device – ensures accurate loading of cores onto the mandrel.
Automatic roll ejection system – enables easy removal of the finished rolls by the operator

Count Facility

Labels
Linear – metres
Programmable auto slow down and stop when the count is reached

Colour Touch Screen Operator Interface

Highlights machine status, error messages and warnings
Counting options
Tension settings

Speed – 150 metres / minute – 492 feet / minute – dependent on material
25mm air mandrels
44mm air mandrels
76mm air mandrels
General
Year Of Manufacture: September 2012
Serial Number: 12090237
The machine will be available middle of October 2018 and can be seen in production.
---
Daco Combi 330 Fully Automatic Turret Rewinder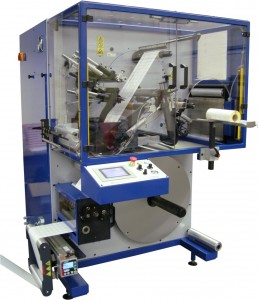 Inline & Off-line Operation
Web width: 330mm (13")
Maximum unwind diameter: 700mm (27.5")
76mm (3") air shaft
Programmable end of roll
Merobel electronic brake
Taper tension control
Splice table with pneumatic interlocked web clamps
Automatic electronic web guide
Adjustable web guide sensor
3 spindle turret rewind
350mm (13.75") maximum rewind diameter
Taper tension control
3 x 76mm (3") air mandrels
Adjustable core positioning stop
Automatic roll eject system complete with roll collection chute
Hot melt core gluing system: 5 glue transfer wheels
The glue bath does not need to be removed from the machine to add or remove glue transfer wheels.
Hot melt tail gluing device
Rotary scissor slitting
3 slitting knives
Knife separation
Allows for easy setting of the knife and anvil with the web in place.  Does not require costly off machine setting tools.
Minimum slit width: 16mm (0.62″)
Lateral knife adjustment: +/- 5mm (0.196")
Maximum web speeds
Offline mode up to 220 metres/minute
Inline mode up to 150 metres/minute
25-38mm (1" – 1.5") mandrels 100 m/minute
Fastest cycle time: 20 seconds / 3 cycles per minute
Count units: Labels / Metres / Feet
HMI operator interface
Shows machine status and system messages (interlocks not met etc)
Counting options
Tension settings
Allows for easy and quick jobs set ups
3 x 25mm (1") air mandrels (including ejector plate)
3 x 38mm (1.5") air mandrels (including ejector plate)
3 x 44mm air mandrels (including ejector plate)
Air requirements: 80 psi, 1 cfm
Electrics: 220-240 volts, single phase, 50 / 60 Hz, 16 amp
Year of manufacture: 2003
Availability: Immediately
---