Daco launch HSI inspection / slitter rewinder
The Daco HSI inspection / slitter rewinder offers both flexibility and high performance. The machine was brought into the range to offer an high capacity unwind with automatic roll lift.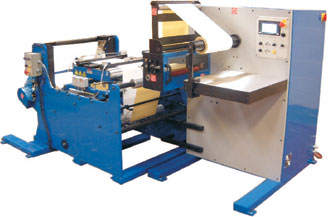 Many of the label printing machine manufacturers such as Mark Andy and Comco are introducing wider presses with a larger rewind capacity. This was in many cases causing problems with existing rewinding equipment as many of the finishing company's were only producing 10″, 13″ and 16″ finishing lines.Daco Solutions decided that a new design was needed and the HSI is the result of 14 months work including many months of client consultation and input from several press agents Worldwide. Many clients concerns were around the Health and Safety issue of roll handling so Daco have added an automatic roll lift for the unwind. Both the rewind and unwind tensions are fully and independently adjustable and the unwind also has a programmable end of roll function, which allows the operator to select an end of roll diameter. An electronic web guidance system ensures that the finished rolls are perfectly wound, and an inspection table with adjustable splicing table (with pneumatic clamps) is also fitted as standard, enabling splices to be made both neatly and easily. Pneumatic airshafts for both unwind and rewind means that changing the rolls could not be simpler, and a web advance system makes it easy to attach the web to the core when starting a new roll.
Web widths 410mm (16″) and 508mm (20.5″).