Daco DTR350-DF Ribobinatrice per etichette digitali
DTR350-DF Digital finishing label rewinder for the rewinding of digitally printed labels, with quick setup and a short web path.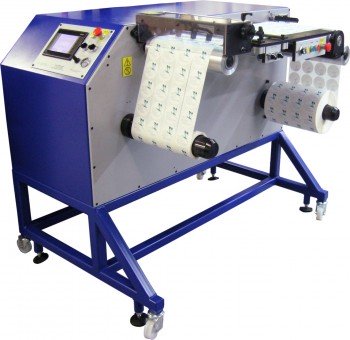 VANTAGGI
The Daco DTR350-DF digital label slitter rewinder was introduced as customers were asking for a machine with very quick setup and a short web path to reduce wastage.  With semi-rotary die cutting digital finishing lines becoming more complicated with the additional embellishments such as screen printing, cold & hot foiling and spot varnishes there is a need to produce larger rolls on the finishing line to reduce waste within the roll.
The Daco DTR-DF fills the gap in the market for a machine with web guidance, a short web path, inspection area, quick setup and a range of rewind mandrels to suit all label finishing applications.
The DTR-DF uses a Merobel electromagnet particle brake for the unwind with automatic taper tension control, the steered unwind utilises a BST web guidance system with a ultrasonic sensor ensuring your finished rolls a perfectly rewound on to a range of air mandrel ranging from 25mm (1″) to 76mm (3″).
The colour touch screen makes the machine both interactive and user friendly.
Larghezza nastro: 350 mm
CARATTERISTICHE STANDARD
Svolgimento

Diametro massimo di svolgimento: 457 mm (18″)
Mandrino ad aria da 76 mm (3″)
Freno a particelle elettromagnetiche Merobel
Servodiametro – Assenza di "seguibobina" o sensori esterni che richiedono regolazioni e manutenzione
Funzione programmabile di fine bobina
Sollevamento nastro – sfiorando un pulsante sull'interfaccia operatore di tipo touch screen, l'operatore può azionare il freno di svolgimento per facilitare il sollevamento del nastro

Guida nastro elettronica BST

Steered unwind.

Sensore a ultrasuoni
Correzione di +/- 25 mm (1″).

Tavolo di giuntura

Tavolo di giuntura integrale con morsetti nastro pneumatici con interblocchi

Taglierina a rasoio

3 lame
Larghezza minima di taglio: 10 mm (0383″)
Regolazione laterale della fustellatrice

Riavvolgimento

1 riavvolgimento prodotto
Diametro massimo di svolgimento: 457 mm (18″)
Mandrino ad aria da 76 mm (3″)
Riavvolgimento etichette lato interno/esterno

Contatore

Etichette
Lineare – metri e piedi

Total count

Batch count

TLC – Total length count until reset by the operator

Interfaccia operatore a colori di tipo touch screen

Highlights machine status, error messages and warnings
Opzioni di conteggio
Impostazione della tensione
Job storage allows for easy & quick job set ups – 100 jobs

Speed – 175 metres / minute (575 feet / minute) – dependent on material
Conforme alle normative CE. Tutti i circuiti utilizzano interruttori di sicurezza a doppio canale, che sono monitorati costantemente mediante l'impiego di un relè di sicurezza certificato.
ATTREZZATURA OPZIONALE
Mandrini di riavvolgimento – 25 mm (1″) a 76 mm (3″)

Lame per taglierina rotativa aggiuntive
---
Documenti sui prodotti
Non sono attualmente disponibili documenti