Daco D250R – Sistema per la finitura di etichette digitali
Daco D250R – Fustellatore rotativo è la soluzione ideale per la trasformazione e la finitura di etichette digitali stampate dalle macchine da stampa per etichette digitali di dimensioni inferiori. Il fustellatore con taglio a registro D250R con unità a fogli opzionale consente di ottenere, con una singola passata, la finitura in bobine o a fogli delle etichette stampate digitalmente.
VANTAGGI
The Daco D250R is the ideal re-register die cutting solutions for smaller digital label printing presses. The D250R re-register die cut machine allows digitally printed webs to be finished quickly and economically. The machine offers the flexibility to either produce labels roll to roll or sheet labels with the optional sheeting station.
The Daco D250R digital label finishing system is a cost effective solution to the finishing of digitally pre-printed webs from machines such as the Primera CX1200, Degrava 8500 and EFI Jetrion type machines. Using the latest in servo drive technology the material can be converted into finished rolls or sheets at speeds of upto 130 metres / minute – 426 feet / minute .
The re-register rotary die cutter is available with either one or two rotary die stations, sheeting station rotary slitting and independent tension control for the unwind and rewind.
CARATTERISTICHE STANDARD
Svolgimento

Diametro massimo di svolgimento: 700 mm (27,5″).
Mandrino ad aria con diametro di 76 mm.
Freno a particelle elettromagnetiche Merobel.
Controllo automatico della tensione.
Funzione fine rullo – L'utente può programmare il diametro di fine rullo – rallentamento e/o blocco – Il sistema non utilizza inseguitori di rullo o sensori esterni che possono danneggiarsi durante le sostituzioni del rullo. Il diametro è programmato dall'interfaccia operatore di tipo touch screen.

Guidanastro

Guidanastro elettronico BST.
Sensore a ultrasuoni – consente di direzionare materiali opachi e chiari.
Sensore con guidanastro regolabile.
Correzione di +/- 25 mm (1″).
Tavolo di giuntura integrale con morsetti nastro pneumatici con interblocchi.

Die Station

Sistema di fustellatura con taglio a registro con servomotore con precisione di 0,25 mm (0.010″)

at a constant speed.

153 – 406 (6″-16″) die repeats.

Rotometrics mediante incudine rigida – 84T – ripetizione da 10,5″.
Ingranaggi – passo circolare 1/8, angolo di pressione di 20 gradi.

In-feed and exit nip roller.

Riavvolgimento matrice / sfrido – diametro 400mm (15,75″).
Mandrino meccanico da 76 mm (3″) per riavvolgimento sfrido.

A driven matrix stripping roller with adjustable tension control ensures reliable matrix stripping, enabling high speed running even if the matrix becomes unstable.

Testa di trafilatura

Rullo di compressione in silicone completamente regolabile che preme contro un cilindro di trafilatura motorizzato.
Il rullo di compressione in silicone non permette alle etichette di attaccarsi tra di loro, riducendo i tempi di inattività.

Taglierine rotanti con lama di taglio

3 taglierine rotanti con lama di taglio.
Larghezza minima taglio: 13 mm (0,51″).
Regolazione laterale della lama di taglio.: +/- 5 mm (0,196″).

Riavvolgimento

1 riavvolgimento prodotto.
Diametro massimo riavvolgimento: 360 mm (14″).
Mandrino ad aria da 76 mm (3″).
Sistema di riavvolgimento servoguidato.
Controllo automatico della tensione.

The mandrels are quick change.

Riavvolgimento etichette lato interno/esterno.

Contatore

Etichette.
Lineare – metri e piedi.

Interfaccia operatore a colori di tipo touch screen.

Highlights machine status, error messages and warnings.

Opzioni di conteggio.
Impostazione della tensione.

Job storage allows for easy & quick job set ups – 100 jobs.

Speed – 130 metres / minute – 426 feet / minute – dependent on material.
Contaore di attività
Conforme alle normative CE. Tutti i circuiti utilizzano interruttori di sicurezza a doppio canale, che sono monitorati costantemente mediante l'impiego di un relè di sicurezza certificato.
ATTREZZATURA OPZIONALE
Controllo della tensione a circuito chiuso.

Re-register sensor for holographic materials.

Regolazione laterale separazione della lama di taglio

Additional rotary die station (no waste rewind or stripping) servo driven.

Sheeting station with shingle conveyor.

Self wound laminating station.

Upgrade laminating with a waste rewind for laminate backing paper.

Barra di sfridatura matrice.
Doppio riavvolgimento prodotto.
Taglio a rasoio – con regolazione laterale durante il percorso e larghezza di taglio minima di 10 mm (0,39″).
Mandrini ad aria – Da 25 mm a 76mm (da 1″ a 3″).
Daco DBS back scorer consente l'avvolgimento dei rifili con la matrice di sfridatura.
RotoMetrics Hydra Jack. die pressure gauges.
Lame per taglierina rotativa aggiuntive.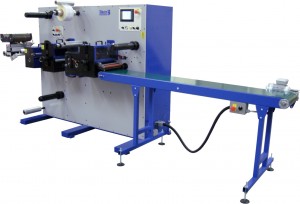 ---
Documenti sui prodotti
Non sono attualmente disponibili documenti