Daco HSI Slitting / Inspection Machine
HSI inspection / slitter rewinder is a high capacity inspection rewinder with a 1m (40″) unwind with automatic roll lift. Available in two web widths 430mm (16″) and 508mm (20.5″).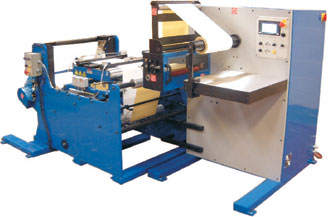 Benefits
The Daco HSI slitting / inspection machine offers both flexibility and high performance. The inspection / slitting machine's design includes a quick make ready rotary scissor slitting box and colour touch screen HMI operator interface for quick and easy job setup.
Both the rewind and unwind tensions are fully and independently adjustable and has taper tension control as standard. The unwind also has a programmable end of roll function, which allows the operator to select an end of roll diameter.
The slitting machines electronic web guidance system ensures that the finished rolls are perfectly wound, and an inspection table with adjustable splicing table (with pneumatic clamps) is also fitted as standard, enabling splices to be made both neatly and easily.
Pneumatic airshafts for both unwind and rewind means that changing the rolls could not be simpler, and a web advance system makes it easy to attach the web to the core when starting a new roll.
Web widths 410mm (16″) and 508mm (20″)
Standard Features
Unwind

Maximum unwind diameter: 1m (40″)
76mm (3″) diameter air shaft
Safety chucks
Roll lift
Merobel electromagnetic particle brake
Automatic taper tension control
End of roll function – The user is able to program the roll end diameter – slowdown and/or stop – The system does not use any roll followers or external sensors that can be damaged at roll changes. The diameter is programmed from the touch screen operator interface.
Web up – the operator can, at the touch of a button on the touch screen operator interface, release the unwind brake to allow for easier webbing up of the machine.

Web guide

BST electronic web guide.
Ultrasonic sensor – enables guiding of opaque and clear materials.
Adjustable web guide sensor.
+/- 25mm (1″) correction.
Integral splice table with pneumatic interlocked web clamps.

Draw Head

Pneumatically operated silicone nip roller against a driven draw roller.
The silicone nip roller does not allow labels to attach themselves to it reducing down time.
Fully adjustable via a regulator and gauge.
On / off feature to allow for easy webbing up of the machine.
Interlocked so that the machine can not be started with the nip roller off.
The draw roller is driven by a 1.5Kw (2 hp) motor to isolate the unwind tension from the rewind.

Slitting

3 rotary scissor slitting knives (shear knife).
Knife separation – Allows for easy setting of the knife and anvil with the web in place.
Minimum slit width: 13mm (0.51″)
Lateral knife adjustment: +/- 5mm (0.196″)

Rewind

1 Product rewind
Maximum rewind diameter: 457mm (18″)
76mm (3″) diameter with quick change air shaft
Automatic taper tension control
Merobel electromagnetic particle clutch
Labels in / labels out rewinding
The mandrels are quick change. The mandrel size is selected on the touch screen and is electronically compensated for, so there are no gears to change.
The rewind is driven by a 1.5Kw (2 hp) motor.

Programmable web advance system

The web advance delay time is programmable from the touch screen – enables easy attachment of the web to the core when starting a new roll.

Count Facility

Labels
Linear – metres & feet
Stop on diameter
Total count
Batch count
Auto calculation of slow down and stop irrelevant of web speed.
TLC – Total length count until reset by the operator.

Colour Touch Screen Operator Interface

Highlights machine status, error messages and warnings
Counting options
Tension settings
Job storage allows for easy & quick job set ups – 100 jobs

Speed – 300 metres / minute – 984 feet / minute – dependent on material
Run Hour Meter
Solid construction – built on a 3mm (0.118″) cabinet with a precision ground steel 16mm (0.62″) main plate.
Conforms to CE regulations and all circuits use dual channel safety switches, which are continuously monitored using a certified safety relay.
Optional Equipment
Closed loop tension control
Missing label detection – 6 or 12 lane
Single or double sided anti static bars
Twin product rewinds with independent tension control and 457mm (18″) diameter
Layon roller for twin product rewinds
Razor slitting with lateral adjustment
Air mandrels – 25 to 76mm (1 to 3″)
Differential rewind shafts
Additional rotary slitting knives
---
Product Documents