Daco Solutions sign an order with Sapir Sprint, Israel, for a Daco DTD250 within the first 30 minutes of the doors opening at Labelexpo Europe 2011. Sapir Sprint produce thermal transfer labels for a range of desktop and industrial printers.
Ronen Gidony – 'we bought one of the first Daco DTD250 machines back in 2003 when the machine was first introduced to the market by Daco. The machine was and still is one of the workhorses of our production facility and we ordered a further DTD250 in the summer of 2011.'
Mark Laurence, Sales Manager – 'Ronen has been a long standing customer of ours and has grown his business successfully over the last 8 years utilising Daco equipment. I can remember the initial conversation with him where he was worried about technical support with being so far away, it is something we laugh about now, he reminds me that he has never bought one spare part from us or had the need for a service call in 8 years.'
Ronen – 'Having seen the upgrades to the machine for Labelexpo, I could see the immediate benefit for my operators and the reduction in setup time and waste'.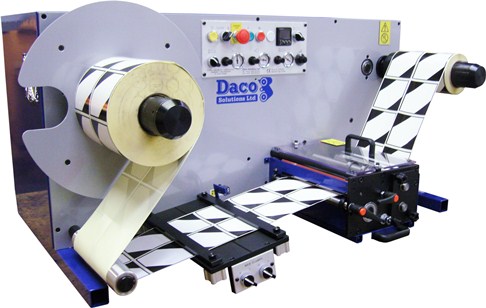 For further details please contact:- Mark Laurence
Email: mark@daco-solutions.com
Telephone: + 44 (0) 1482 860288