Sunday March 4th, 2012
Edale held their first Open House and 'Expo 2012'  at their premises in Hampshire, UK on 8th February 2012.
The event began at 10.30am when the local Mayor and Mayoress of Fareham cut the ribbon to officially open Edale's second Unit and also the start of the exhibition.  There were a large number of visitors who spilled in and began browsing the various table tops and catching up with industry friends, suppliers and customers.
11am saw the first demonstration of the newest Edale press – the FL-350 modular flexopress, with 20 minute presentation slots following on after this.  The FL-350 was launched at Label Expo Europe last year and the demonstrations at the Open House gave another opportunity for those who had not seen the press, or another chance to see it again.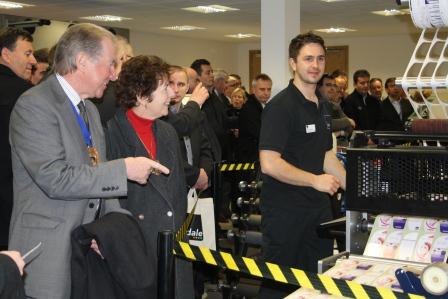 As well as the FL-350, there was also a Gamma scratch card line available for demonstration – an 8 colour machine which has been sold to an overseas customer for the production of pre-paid telephone scratch cards.  Other machines available to view were three Beta modular flexopresses and the Alpha compact flexopress.
The event which initially was planned to be fairly low key, soon snowballed with the end result 'exceeding expectations' with a total of 20  key suppliers exhibiting, and a large number presenting. The attendees were:  Alphasonics, API Foil, Asahi Photoproducts, Creation Reprographics, Cheshire Anilox Technology, Daco Solutions, Domino, ESKO, Fiberweb, GEW, Herma, JM Heaford, IST, Lake Image Systems, Rotometrics, Tesa Tapes, Vetaphone, Xeric Web Drying Systems and Zeller & Gmelin.  The BPIF and EFIA also had a presence at the event with John Bambery, Chairman of the BPIF, kicking off the day's presentations.
Jeremy Westcott, Sales and Marketing Director said "For a first event, this really exceeded our expectations; we had over 100 people attend the day made up of customers, potential customers, suppliers and press. We are thrilled with the initial success the Open House seems to have brought.  It was a day to open the doors of Edale and show people how Edale work, what we have managed to achieve with the opening of the second unit, and also the wide range of products that we can offer. It was great to be able to have our suppliers and also our worldwide network of agents attending a day like this."
The Open House made up one day of Edale's distributors training schedule giving them the chance to increase knowledge on not only Edale products but also those of their suppliers. The second day of their training saw the Sales and Marketing team give the distributors a talk on Edale's objectives for 2012, as well as a full technical presentation on the FL-350 from Senior Designer Glen Whittington, tied in with hands-on print training on the FL-350 machine in the showroom, which saw the distributors competing against each other on the 'Pit Stop Colour Change Challenge'!
Daco Solutions and Edale Limited share many agent / distributors Worldwide and it was a great chance to meet our agents Printers Supply Co PVT Ltd, India and Ferrostaal Equipment Solutions (Pty) Ltd., South Africa